Something fun and sweet to hold on your arm for pictures and save for later to cherish the amazing memories you made at prom! **PLEASE NOTE YOUR DRESS/TUX/JUMPSUIT COLOR IN "SPECIAL INSTRUCTIONS" **For bow color preferences please rank your 1st and 2nd choices, in the "SPECIAL INSTRUCTIONS" section of the order. For any other questions or concerns, call us at (507)-645-4956
All prices in USD ($)

Due to seasonal price increases on flowers and floral supplies our prices will reflect an increase for the Valentine''s holiday.
Primarily White

FFA

Primarily Yellow

FFA

Primarily Red

FFA

Primarily Light PInk

FFA

Primarily Hot Pink

FFA

Primarily Purple

FFA

Primarily Orange

FFA

Primarily Blue

FFA

Designer's Choice-Bright & Crazy!

FFA

Designer's Choice-Wildflower Vibe

FFA

Designer's Choice- Romantic Vibe

FFA

Designer's Choice-Dark N' Moody Vibe

FFA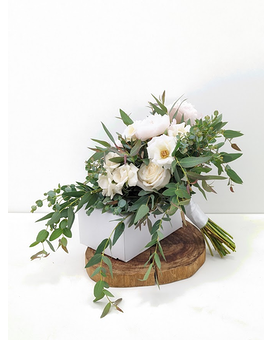 Primarily Yellow - $65.00
Primarily Light PInk - $65.00
Primarily Hot Pink - $65.00
Primarily Purple - $65.00
Primarily Orange - $65.00
Designer's Choice-Bright & Crazy! - $65.00
Designer's Choice-Wildflower Vibe - $65.00
Designer's Choice- Romantic Vibe - $65.00
Designer's Choice-Dark N' Moody Vibe - $65.00